Balance Essential Oil
(2)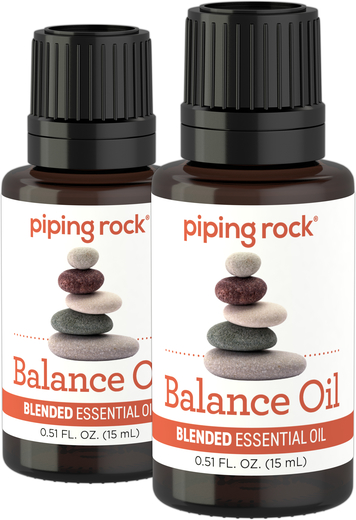 Find your center with our Balance Essential Oil, blending some of the best meditation-enhancing essential oils in aromatherapy. The earthy and sweet aroma of this blend:
Is sublimely grounding and centering**

Helps find equal connection between your feet and ground, your body & mind**

Promotes mindful meditation**
Read more about Balance Essential Oil
What is Balance Oil?
Find your center with our expertly formulated blend of nature's finest balancing oils. We've combined Geranium, Sweet Orange, Patchouli Dark, Clary Sage, and Ylang Ylang I, II, III essential oils to create a sublimely aromatic blend, emitting a uniquely earthy and sweet scent that works wonders during mindful meditation.
Balance Essential Oil
One of our most popular blends, Balance Oil is created from steam distilled geranium leaves, stems, and flowers, patchouli leaves, clary sage flowers and leaves, and ylang ylang flowers, as well as cold-pressed sweet orange rinds. Together these oils create a strong earthy, sweet scent.
In aromatherapy, Balance Oil can be centering and grounding, promoting positivity and a sense of balance.
Blended oils can be combined with a carrier oil to be used on the skin and can also be used in a diffuser. Diffuse our Balance Oil during mindful meditation, or create a yoga mat spray, and find the equal connection between your feet and the ground, and between your body and mind.
PipingRock's Balance Oil is available in ½ oz. glass amber bottles with dropper tops.
Directions for Use
Add 3-5 drops of Balance Oil to a diffuser or vaporizer, to a bowl of steaming water or a hot bath to fill a room with its earthy aroma. As a blended oil, it can also be used topically when combined with 10 mL of any carrier oil.
Balance Oil is for external use only and should be used topically. Do not apply to broken or irritated skin. Always consult your trusted physician before adding any essential oil to your regimen, especially if you are pregnant, nursing or taking any medications. Discontinue use and alert your doctor should an adverse reaction occur. Keep out of reach of children and away from eyes and mouth. Essential oils are flammable.