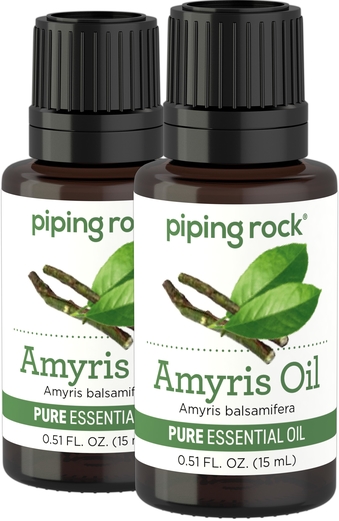 Once mistaken for Sandalwood, Amyris Oil's warm, woody aroma has made it a popular meditative aid in aromatherapy. This oil, steam distilled from the aromatic bark, may:
Encourage a sense of calm as it soothes**

Help to ease occasional stress and tension**

Act as a grounding bottom note in perfumery
Read more about Amyris Oil
What is Amyris?
A flowering evergreen that can reach a height of 60 feet, Amyris balsamifera is native to Central America and the West Indies. It was mistaken for sandalwood up to the late 19th century, and is thereby also known as West Indian Sandalwood. It boasts white clusters of flowers that turn into a dark blue, edible fruit, but the showrunner for this historical tree lies beneath its bark.
Amyris is notably high in resin content, its wood rich in essential oil. It's this oil-soaked wood that earned Amyris the nicknames "torchwood" and "candlewood," as its wood can be, and has historically been, burned as a candle. Steam distilled from the fragrant wood, amyris essential oil boasts a warm, woody scent, with hints of dry sweetness that has made it a popular fixative and bottom note in perfumery.
Amyris Essential Oil
Amyris oil is most popular as a meditative aid. Its warming aroma calms as it soothes, gently opening the senses to achieve a wholesome meditation experience. Its gentle aroma helps to ease occasional stress and tension, especially when gently massaged into the muscles. It can encourage a sense of peace. Thanks to one of amyris' compounds elemol, this oil can also be used to help keep pesky bugs at bay!
Blending essential oils opens up a world of wellness possibilities! Other oils that complement amyris oil's balsamic fragrance include: cedarwood, citronella, cypress, ginger, jasmine, lavender, lemon, orange, rosemary, rosewood, sandalwood, & ylang ylang oils.
PipingRock's pure Amyris Oil is available in 1/2 oz. bottles.
Amyris Oil Directions for Use
Add 3-5 drops of Amyris Oil to a diffuser or vaporizer, to a bowl of steaming water or a hot bath to fill a room with its woody scent. To use topically, add ~5 drops of Amyris Oil to ~10 mL of any PipingRock carrier oil.
Amyris Oil is for external use only and should be diluted in a carrier oil such as sweet almond, jojoba, grapeseed or avocado oil before being used topically. Do not apply to broken or irritated skin. Always consult your trusted physician before adding any essential oil to your regimen, especially if you are pregnant, nursing or taking any medications. Discontinue use and alert your doctor should an adverse reaction occur. Keep out of reach of children and away from eyes and mouth. Essential oils are flammable.